Brian's Page
DEDICATED TO THE MEMORY OF BRIAN STANFIELD (Space has been provided for comments below.)
Picture of Brian (courtesy John Cock)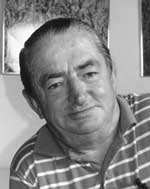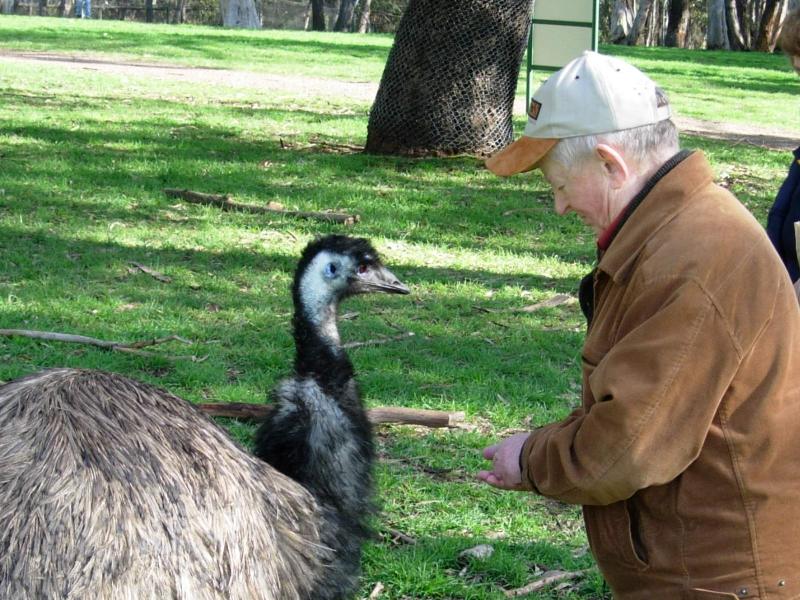 Phase 1, Sydney, Port Macquarie, Armidale NSW
BRIAN'S EARLY YEARS Born in Sydney on 4th July 1931, Brian and his family moved to Port Macquarie, a small seaside village, when he was 5. Brian grew up in the Royal Hotel in Port Macquarie. His mom Mary Grace and dad Robert ran the best dining room and pub in town. His sisters Jean 17, twins Laura and Kathleen 25 were more like special Aunts. Brian went to Catholic schools where the nuns ensured that he learned in a disciplined rigorous environment, including Latin. His love for geography and his fascination with the world began especially when mom gave him an atlas and he created scrapbooks about the Second World War. Important memories of Brian's include:
Going to the "flicks" every Saturday – movies became a lifelong passion.
Vegetable gardening and pub cleaning with his father – a tall hot tempered showman whom Brian held in awe.
Flying several times in a four-seater plane with mom to Sydney to see a specialist about helping Brian to grow taller – to no avail.
Fishing with family friends from a boat on the Hastings River.
Riding his bicycle fast down hills with his mates.
Playing by the river and the sea, a deep enduring connection.
Catholic boarding school in Armidale when war food rationing was on.
Cooking sausages on bunson burners in the chemistry lab late at night.
Gaining his full height 4 feet 11 ½ inches
Phase 2 Castle Hill NSW, Kingsgrove NSW, Mentone, Victoria 1955
BRIAN THE RELIGIOUS Brian taught as a De La Salle Brother from 1955-1967. His Religious name was Bruno Canisius. The brothers privately called him Can or Dynamite. Some called him a revolutionary whether he was waking up his colleagues with a squirt gun or questioning the Catholic school system. These were heady times of pre and post Vatican II. The notorious four at Kingsgrove led by Brian studied and wrote and created and acted on their own proposals to Vatican II – much of which came to fruition in the Vatican II Council in 1962. John Garlick tells this story. Participation in liturgy became a major theme. Brian took this challenge on at Kingsgrove. First he insisted that there be hymn books for all the students. Then with minimal music conducting experience he systematically taught the students hymns and the Latin liturgical responses. A big change happened to everyone as the liturgy came alive. He published a private newsletter "Light and Life" for the brothers to have their say. At this time with permission Brian wrote articles in the Sydney Morning Herald. Eventually his articles, bold thinking with his classes and activities with Catholics for Peace became a bit too bold and he was asked to desist or leave. As John Garlick said, "when Brian decided to do something he did it to the finish and one had best get out of his way". This quality was a gift and struggle for him all of his life. On behalf of the "boys" of De La Salle Kingsgrove, Classes of '64 and '65, Bernie Carney shares this thought of Brian:- "Brian was not only a teacher to us but someone who clearly showed his beliefs and convictions through his actions. As a De La Salle brother at that time, Brian was a progressive. We all knew that he did and said things that were ahead of their time and that he undoubtedly 'copped plenty of flack' for doing so. Nevertheless, Brian always stuck to what he believed and this won him our admiration – an admiration that has lasted for over 40 years. Brian had a positive and lasting effect on the lives of hundreds of his students and we are all the better for it so many years later."
Phase 3, Paddington, Chicago, Toronto, Maliwada, Mumbai, Chikhale
BRIAN THE TEACHER Ecumenical Institute: Imaginal Education Course in 1969 sends fire through Brian. This is what he has been looking for all his teaching life. He is hooked. He attends a training program in Melbourne 1970 and then becomes part of the Sydney Order Ecumenical community. In July 1970 he marries Jeanette Marks and is assigned with her to the Ecumenical Institute/ Institute of Cultural Affairs office in Chicago in April 1971. There, he the lone Catholic, became part of the faculty and later the deanery of The Global Academy – an intensive 8 week program for global church men and women. Gene Marshall, one of the first deans, says this of Brian: "Brian was one of the dearest friends I ever had. Brian had the sort of integrity, imagination, and dependability that are indeed rare on this earth. Because of that, I trust he will remain with us in the ways that people who join our meditative council do." Liz Banks remembers Brian guiding a seminar on Tillich's sermon 'You are Accepted'. He got a box of Tillich papers, stood on it and eyed everyone and said: Yes indeed I am accepted (even this one who is 4 foot 11 ½ inches tall). – a great laugh of delight went through the room. Everyone got the point. 1978 Brian and Jeanette are assigned to India as staff of the Institute of Cultural Affairs (ICA). Brian goes to Maliwada to help guide the Human Development Training Institutes for young people from the villages in Maharashtra. This is the adventure of a lifetime . Steve Rhea gives four great memories of Brian. 1. Absolutely one of the finest pedagogues I ever had the pleasure of knowing and working with. 2. A wonderfully creative cook when we shared kitchen duties at the Sydney house. 3. Superb at injecting humor and life into any situation, especially those that were really stressful and needed that otherness. 4. Absolutely the best performer of "Zorba's Dance" on the big refectory table in the collegium room at #1 Regent Street, Paddington.
Phase 4, 1984. Chicago, Toronto, Brisbane, Christies Beach
BRIAN THE RESEARCHER AND WRITER Change is afoot in the Order Ecumenical community. Brian participates in guiding many global councils and travels to gatherings around the world. In between, he documents the academy, explores new constructs, and spirit practices. In 1986 the Stanfields are assigned to Toronto as part of a global research team. Brian to his delight initiates and edits the Edges magazine. It is a time of great exploration of new ideas and breathing fresh air into the place – exactly up Brian's alley. When in 1988 the structures of the global community are taken out of being Brian focuses on writing curriculum for the new facilitation thrust in ICA and continues research and writing for Edges. In 1995, books on ICA methods are in demand so Brian starts editing and writing 'Art of Focused Conversation' with the ICA Canada team. It is published in 1997 with New Society Publishers. New members of the board of ICA Canada request the foundational understandings behind ICA methods. 'Courage to Lead' is published in 2000 with a companion journal and study guide. In 2002, 'The Workshop Book' comes into being. Ernie Kuechmeister, a principal of a school in Canada and board member, wrote the following about Brian: "I am grateful to have known Brian and to have had the opportunity to "learn from the master." It never ceased to amaze me how well he was able to clarify complex issues and put viable solutions within the grasp of groups with very mixed backgrounds and abilities. This was not only knowledge at work; it was the expression of very profound wisdom. Brian was a wise and good man and we have all benefited for his having been among us. From his teaching and writings many more will continue to grow and develop into better world citizens. He has left us a prodigious legacy of good will and insight." During this period Brian stops smoking, rides a bicycle, gets diabetes and high blood pressure and delights in riding a three wheel electric scooter. In 2001 Brian celebrates his 70th birthday by travelling alone to St James Bay and the Arctic waters – a major rite of passage into his 8th decade.
The Postlude – BRIAN COMING HOME
In 2003 the time is right to return home to Australia. Brian and Jeanette reconnect with family, friends, students, and colleagues in Australia. Brian travels for the first time to the red centre and Uluru. He continues to edit Edges newsletter and participate in an ICA Australia research team. He goes on retreats with the Robins and Oakleys, takes a fine Houseboat trip on the Murray River, and travels back to Port Macquarie. December 2004 Brian is working on a trends research paper. He becomes disoriented and uncoordinated. This is the beginning of several major strokes he suffers over the next few months. March 2005 Brian attends mass on Good Friday and Easter Sunday for the first time in a long time. Easter Monday he collapses and is rushed to Flinders Medical Center where he spends two weeks in coma. To the surprise of the doctors he wakes up. After 6 weeks Brian decides he will come home. In trepidation but with the help of the social worker, Home Link, Domcare, Sister Claire, and my niece Emily, we bring him home. He speaks rarely and cannot write but he knows what is going on. Swallowing is very difficult. However he is still that determined whimsical character who impacts all who encounter him. Doctors look at him and say "you are a strange fellow". Amanda Healey is sent by home link to care for Brian during the first week after he comes home May 10, 2005. Her poem captures a bit of Life with Brian in this last year. Brian goes back to hospital with pneumonia in Oct. 2005 and with a urinary and staph infection in May 2006, his body is now very weak. He has had a year of resting in the spirit if you like with little to know or do – a real sabbatical. He makes it clear that he is now ready to take the next step in his journey but at home. With the help of palliative care royal district nurses, Jeanette, Amanda, Katrin Ogilvy, and Father Charles, he comes home and dies a week later at 3:25AM June 8, 2006. Notes for facilitating Brian's Memorial: 1. The Welcome: My name is Brian Robins. On behalf of Jeanette I want to welcome everyone of you here this afternoon. This meeting is to honour the memory of one who has addressed the lives of us all. It is our sense that Brian would note want fine speeches on this occasion so it is our hope that together we will rehearse 'the life of Brian'. I think he would enjoy being identified with Peter Sellers. We are especially pleased that Bobbie and Joan are here. Bobbie is a nephew and Joan a niece of Brian. I also want to introduce Father Charles and Sister Claire who have spiritually cared for Brian and Jeanette and have become their friends. The rest of us will get to know each other as we go along. In a very real way, we are the one's invited to this family gathering. Brian, like many of us here, have been members of the Ecumenical Institute and its off-shoot, the Institute of Cultural affairs. That group of people wrote many songs, stole many tunes, and sang, sang, sang. So today we will sing. We never had musical accompaniment and we won't today! We will call ourselves together in words that are somewhat traditional. We are surrounded at this time by a cloud of witnesses, both of the church militant and the church triumphant. In fact today, around the world, there will be a number of groups meeting like us to rehearse and celebrate Brian 's life. Perhaps we could name some of those who will be meeting or at least prayerfully remembering our colleague. And of course the church triumphant: Who are some of those who were Brian's Meditative Council, that we could name today, and no doubt bring a smile to Brian's face? It is appropriate that we pass the peace to each other at this time. WITNESS; You know, Brian was a teacher to the very end. Jeanette says that it was his express wish that he die slowly. That was just one of the incredible wishes of his life and I am sure he wished it because he saw that people were not facing their death in reality. There are illusions about dying. Some of us just keel over and that's it, but many of us don't. What we experienced was a person turning his dying into a teaching experience. What does it mean to have a stroke? We had to observe as he lost his ability to speak, to eat, to walk and control his natural functions. And do you know what we saw? A pair of eyes whimsically saying: Get clear what we are talking about here. We all wanted to say, O God take him, but Brian only died when it was time. Several times we had committed him to God, and several times he came back to life to suggest, not yet, not yet, it's nice of you to sympathize with me, but you can't wish me out of this life. On the day Brian died we gathered very early in the morning and sat with him. It was as if we were glued there, and we were aware of his presence. It was as if he was saying Look, look, this is the last part, I can't even look now, but I want you to remain awhile yet. I have learned from this colleague, that a significant part of living is in the dying.
MY JOURNEY WITH BRIAN MAY 2005 TO JUNE 2006

I got a phone call from Hendercare
 So I hopped into my car
 Following the dotted lines.
Then they fall into one long line
 As I fight to be on time.

The wind brushes through my hair
 As welcomed I was.  The first day went fine.
Hope to see you all next time.
Will be on my way.

Each day went by being welcomed at the door.
I began to know Mr. Stanfield.
The days were going.
Then there was a feeling of not knowing.

Learning about myself,
Knowing I was wanted and needed
 Really began my self-esteem.
Feeling there is a reason
 For being a part of this man's life.

Assisting Brian in living his life differently
 The months went by.
We shared our strength and sense of humour with each other.
The day we shared the scooter along the beachfront
 Will always be a day that is never to be forgotten.

Many milkshakes and cheesecakes we had
 No matter what Brian would insist.
The sharing and caring that we transferred
 With the high and low I began to watch
 The mottos we had.

Slowly but surely 
Tell that brain to swallow that food
 Right down that drain.
All the thumbs-up I had, 
The massages I gave.

Tears and laughter,
The holiday we had,
Blue eye we shared,
The days we read
 And the games we played
 Memory that will never be forgotten.

I do as much as I can
 Be as patient as I can be.
Twice I have seen your eyes tell me you weren't happy,
But as we worked together
 We began to be happy again.

The time has come where I really look back,
Appreciate all the days we have had.
You are a different character than I, 
But as I look through that:
We are all the same.

Now is the time where I learn
 To help as much as I can,
Holding your hand,
Looking back at the times we did thumbs-up,
Trying to hold my head high.

I am proud.
It has been a joy being around you,
The night we listened to the music,
Danced under the stars
 Along with your very good friends
 And your lovely wife Jeanette.

The bond had begun between us all.
My children have learned
 That people can give to each other in many ways.
It makes our hearts feel good,
As I believe Brian Stanfield is all good and 
Very intelligent.

If my son was to grow like Brian has, 
I will be and would be proud.
As Brian is proud, strong and mischievous
 In his own way.
But who am I to say?
I guess I want to be that way!

Each day you look into my eyes now, 
I see you say: It's time to let me rest.
I will feel when the time is right
 As the sign will shine bright.

Let me have and keep all the memory
 Now is the time I say good-bye to you.
May you be placed in my heart.
I will share my love for you, 
The days we had.
     By Amanda Healey
                                         Care Worker for Brian
 As I light my candle for you, Brian and Jeanette.

Use the box below to enter your own remembrances of Brian.
REFLECTION FOR BRIAN
Brian is one of my candidates for the title "ordinary saint." Perhaps if each of us could touch the world we inhabit the way Brian has touched his world, God might become visible in the tiny and humble human acts of graciousness, kindness, caring, and love. (adapted from a Spong reflection on July 22, 2005, in DAILY SPIRIT JOURNAL, vol. I) We embrace with Brian the awesome wonder of being, especially at this time in his great journey without end . . . . . . selected lines from the "BEING SONG" (one of his favorites) Tune: Theme from "BLACK ORPHEUS": My life is as Vast as the sea, No boundaries No floor beneath me. . . . To die is my lot. I live as if not With Paul I merge with All. I see then as Never before The secrets of Heaven my store. . . . I'm sent as a sign The bread and the wine My form And virgin born. . . . Called to burn as an Undying flame Each word and each Gesture the Name. . . . Then the Lord through My life prayers a prayer And my being is Filled being there. . . . And it's no longer I who is seen, But the Lord standing There in between. Finished as I die Held there between Sky and sod To save our God. Yes, it's there on the limbs of the worm eaten tree where the All and the Nothing can be. --
JohnCock
, fellow journer - 10 Aug 2006 - 19:23
Thanks for sharing these wonderful memories of Brian's life. I appreciate seeing the good, old songs included in his memorial service. Stature has little to do with height, but everything to do with size of heart, and Brian had a wonderfully large one. Grace and Peace to you, Jeanette, as you live on, and to Brian as he rests in peace. Ruth Landmann -- RuthLandmann - 10 Aug 2006 - 22:44