Sir James Lindsay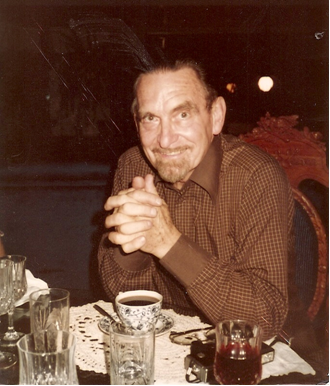 The life story of Sir James Lindsay
He was born in 1915 in London and became the oldest of four brothers. He was educated at Highgate School. He did a range of sports at the school and became the team captain of whatever team he was part of. In 1937 he went to India with Metalbox. At Metalbox he became the Calcutta Branch-manager, Commercial Director, Managing Director and finally Chairman and Managing Director. His intellect, tenaciousness and charm involved him in many associations, many of which he subsequently led. He had a particular concern for developing Indian managers and made sure he was succeeded by highly successful Indian managers: • President o Bengal Chamber of Commerce and Industry o Associated Chambers of Commerce and Industry of India o Rotary Club of Calcutta o Calcutta Management Association o and elected Life Member of the All India Management Association • Director o Indian Oxygen Co. o Westinghouse, Saxby Farmer ltd o Hindusthan Pilkington • Member of the governing body of: o The Indian Institute of Management, o Administrative Staff College of India o Indian Institutes of Technology o National Council of Applied Economic Research o All India Board of Management Studies o Indian Institute of Foreign Trade • Life Fellow of the Institute of Directors (50 year membership) He was knighted because of his effective efforts at resolving a potentially difficult conflict between India and Britain in 1965. During the India Pakistan war around 1964, a senior British cabinet member had spoken about the war and indicated that India had started the war. This is not how India saw that, and the comments caused headlines in the Indian press and threatened to damage relationships between Britain and India in general and the prospect of British business in India in particular. Over a two-month period, Sir James made weekly trips to London to solve this issue. Because of his success in doing so, he was knighted the next year. In 1969 he decided to leave his post, ensuring an Indian executive would succeed him. He joined the board of Metalbox in London, and got involved quite quickly in the Henley Administrative Staff college, to which he became seconded by Metalbox for the next 10 years. He taught, with Peggy, an international management development programme for managers from around the planet with great success. At the time of his retirement from Henley he met the Institute of Cultural Affairs, with whom he organised and then became the Convenor of the International Exposition of Rural Development. He took this project on in full partnership with Peggy. The IERD was held in New Delhi in 1984, bringing together some 750 rural development practioners and experts from 50 countries. The Convenor role took him to most of those 50 countries and all over India to promote the initiative, seek sponsorship and facilitate fundraising. From 1982-1989 he was President of the Institute of Cultural Affairs International. In the early 1990s he taught international management at the University of Buckinghamshire. From 1994 to 1998 he was president of Kanbay UK. In the late 1990s he had a number of strokes which effected him strongly. He would never be really mobile again. Instead, people from all over the world would travel to him, to find a positive, spirited elder, who kept on inspiring people with his words of appreciation and encouragement. I asked a number of people to tell me about the characteristics they most admired in him and this is what they said:
He was committed to development, to the local, to diversity
Cyprian: He made sure he was the last British president of the Association of chambers of commerce in India (Assocham). Likewise, he also ensured all the clubs in Calcutta allowed non-British members. He invested a lot in management education to ensure managers in India have the capability and the skills to lead companies, which previously depended on British managers. He was the last British MD and Chairman of Metal Box in India. He groomed leadership which successfully led the company. Stuart: I remember being on a visit with him in Hyderabad when he visited an old stalwart captain of Indian industry, and they reminisced on their time as executives in both British India, and the newly independent India. On leaving, the Indian host made a comment that as many of their former colleagues had died, Jim and he were like small islands of shared experience, all that was left of what once was a vast "continent". And that was in 1983! Geoff: It always amazed me to see the kind of respect Sir James commanded in the Indian business community. Of all the years I spent in Development, never before or after did I have such an easy time setting top level appointments than when Jim came to town to help raise money for the IERD. Through his empowerment and development of an indigenous executive cadre, starting at Metal Box, he used the business sector as a practical bridge that helped transform India from being the colonial crown jewel of the then British Empire into being one of the world's largest industrial powerhouses. While this is a great feat for history, I personally enjoyed clipping the coupons in the Board rooms and corner offices for our human development efforts.
He was clever and articulate, not afraid to tackle the difficult issues
Peggy: He was knighted because of his effective efforts at resolving a potentially difficult conflict between India and Britain in 1965. During the India Pakistan war around 1964, a senior British cabinet member had spoken about the war and indicated that India had started the war. This is not how India saw that, and the comments caused headlines in the Indian press and threatened to damage relationship between Britain and India in general and the prospect of British business in India in particular. Over a two-month period, Sir James made weekly trips to London to solve this issue. Because of his success in doing so, he was knighted the next year. John: During 1985 he was involved with me in helping the ICA gain consultative status with the UN. There were many difficult meetings where we were quizzed by senior diplomats from around the world. Jim would always know how to answer their questions, without going into complexities. He made it easy for people to understand what we were doing. It was the French delegate who turned the tide with a great speech supporting our work in France and around the world.
He was tenacious and with endless energy
Nancy: After Jim's trips to Bombay, on the way to the airport, I would have a stack of 20 or 30 thank-you letters for him to sign. After he would sign one, perhaps adding a personal comment, I would yank that one away & he would sign another. We didn't give him much of a break in the work!!! Mary: He took on some major foundations on behalf of the ICA when that required courage and tenacity
He was comfortable wherever he was
Nancy: I'll never forget the waiter at a club in Bombay, who saw Sir James & said "The usual, Sir?" after he had been living in England already for many years. Cyprian: I remember him doing dishes at our summer programmes in Chicago. He was equally at ease in palaces. He was familiar with Indian art and classical music. He had travelled all across the country even to the most remote areas.
He had a simplicity of thought and action: a man of service
Cyprian: He put the recognition given to him for his work, his status and achievements in business and industry aside and decided to bat for the cause of development. He was putting everything he had on the line for a bunch of nobodies. Doris: The first concerns one of our summer programs at Kemper in Chicago. Sir James was working with some group (I don't know what), and as I was walking through the printshop, he was doing a big stack of copying on our huge IBM copier. I was simply amazed, because he was moving faster than I imaged he could, copying pages back and front -- copying, flipping, shoving; copying, flipping shoving, etc. Nancy: My home town was blessed with the presence of George Washington Carver for a couple of years just before he went to college, and this saying attributed to him comes to mind, in memory of Sir James: "It is not the style of clothes one wears, neither the kind of automobile one drives, nor the amount of money one has in the bank, that counts. These mean nothing. It is simply service that measures success."
He was unflappable
Doris: He had arranged an appointment with someone to talk about the IERD, and had rushed off to the meeting. This was during Holi when throwing colored paint powder is part of the celebration. A few minutes after Sir James left our place, he came rushing back in to wash and change clothes, as he had been the target of a handful of paint. Most people would have been upset, but he had a long history in India, knew all the customs, and took it all in stride. After cleaning up, with a minimum of confusion, he left again to make his appointment. Stuart: My other one is about the famous Jim Lindsay speaking tour leading up to the IERD. He literally went to scores if not hundreds of sites across India, giving a thirty minute speech to development groups and academics about the need to revitalize rural life, and highlight "methods that worked" as a way to stop the steady flight of rural people into the slums of India's big cities. (That was the whole rationale for the IERD — to showcase methods that work in the rural areas). Jim was not the most outwardly organised man, and quite often his lecture papers would fall into disrepair. On this particular occasion he was making a presentation at a university in the southern India city of Mysore. The day was hot, and the room was stuffy. His chief aide, Indian colleague Cyprian D'Souza, had fallen into a slumber, while Jim battled the heat and the torpor in the room. Suddenly Jim came to a complete halt in his presentation --- the requisite next page was missing. Only a second went by before Cyrprian, eyes still closed, fed Jim his next line "and the young men of the villages find themselves with nothing to do between planting and harvesting season", or something of the like. And Jim picked it up and finished the speech without missing a beat. Two insights – 1) Cyprian had heard that speech so many times, he knew it in his sleep. And 2) Sir James was unflappable. Nancy: Trying to wash blood out of his shirt before an important meeting, but he would simply move ahead
He had, was an endlessly positive spirit
Cyprian: A positive frame of mind at all times. I have not seen him unhappy and grumbling. I have seen him go full blast on IERD story even when the person we were meeting with fell asleep. This was in Brazil. Only the translator was listening. Jim was unfazed. Continued to tell the story. When done the man woke up and was given a brief summary of what was said. We walked out of there with sponsorship and funding.
His completely positive relationship to life and his decision to use his influence to good effect
Alan: I remember trying to raise funds to support our rural development efforts from companies in New Delhi, and trying to get support from key government agencies. It was really hard work and a protracted process over many weeks. Yet when Sir James and Lady Peggy were visiting in connection with the IERD, I was able to ring many of the same or more senior people and gain appointments with them at short notice. They wanted to meet Sir James. Many of them remembered him well and were honoured that he wanted to see them. His reputation and good name were immense. The energy and enthusiasm of both Jim and Peggy in meeting so many people in such short visits was extraordinary. It was an honour to work with both of them. Paul: During his last day, speaking was difficult for him, and yet, every other word he said was one of gratitude, thank you, thank you. Or the single raised finger to indicate: fine, ok. Did he need anything? 'I am fine', 'I have everything'. I told him of family events. And his response was a litany of 'amazing', 'well done'. I told him of Kanbay's recent success: 'fantastic' he said.
He was quite a character
Paul: Playing the piano with gusto, not perfectly, but tackling the most difficult pieces, with the tape playing the orchestra. Even when his eye sight was hampering him, he had organized a contraption, allowing him to read the smallest notes with enormous magnifiers Cyprian: He always travelled with his special mix of Muesli, Economist magazines (with ad pages pulled out) and his numerous address books (with lots of additions and corrections made with white out). He enjoyed sun bathing. In Delhi he would sun bathe on park benches between meetings and calls
He was a true character who impacted so many people
Raymond: So many people mention his wit, his sparkle and wicked sense of humour. Geoff: Tea Time: One time Sir James and I were in Pune raising money for the IERD and we were staying at the Kirloskar guest house. It gets around to afternoon tea time so the house boy drops the tea tray off in a seating area outside our bedrooms and taps on our doors. So we sit down and proceed to start the standard ritual of pouring and then adding cream and sugar into the tea. While doing so I happen to glance over at Jim and out of nowhere he had produced a bottle of scotch and was pouring it into his tea. When I looked over with a look of surprise he simply said, in a completely matter of fact fashion, that it actually tastes quite good and would I like to try it. I did and we enjoyed a lovely cup of spiked afternoon tea. I've never done it since but I'll certainly never forget doing it once. Geoff: Sibling Rivalry: Somehow the conversation came around to his kids when they were youngsters. One of his reflections was that if two of his children were at the edge of a cliff he often wondered and, to a degree, would not have been surprised if one pushed the other over the edge. Food for thought. John: Jim went to see the most senior of Japanese businessmen in Tokyo with Don Clarke and Jim Patterson. The meeting went very well, and during it, Jim went into a deep sleep. Not even a sturdy kick underneath the table could wake him up. The executive was friendly and helpful and provided the support that was asked….
He provided personal support and encouragement to many, he was kind
Paul: Supporting me at the time of the ending of the order and tackling new challenges in the world by being a study supervisor Paul: He participated in a meeting of former order members in the early 1990s and was there simply to support, praise and encourage. I remember him saying: "you used to be so frightened of the world, and look what you are doing now!"
Others: Jim supported people when they had personal challenges and difficulties
--Compiled by Paul Shrijnen, submitted by John Patterson
Eulogy at the Funeral
---
Dear Peggy, dear family, dear friends of Jim, I stand here representing the thousands of people on whom Sir James Lindsay had an impact. I stand here in gratitude for his life and all he was and did. 1. I want to give thanks for his contribution to India and its development. He worked for 30 years for
MetalBox
in India, where he trained hundreds of managers. And made sure that he was succeeded by Indian managers. He was instrumental in developing the relationship between Britain and India in the mid 1960s when a British government official endangered that relationship with unhelpful comments about the role of India in the India-Pakistan. He engaged in a shuttle diplomacy that resolved that issue and he was knighted a year later for that. His commitment to developing managers in India was reflected in his involved in a myriad of management development organisations, for which he is still being honoured. Again, he made sure he was the last British president of the prestigious All India Management Association. And lastly his commitment to India was reflected in his involved in a Rural Development initiative, which he promoted in the furthest and widest corners of India and the world. He engaged in this initiative, as in many others, in full partnership with Peggy. Thank you Jim for your commitment to India. 2. I want to give thanks for the way he saw his life as service. When he came across the development organisation in which I worked he was a man of immense status and importance, in particular in India. He put all that recognition and status to work for this organisation, this group of nobodies, and helped them in their desire to deal with rural poverty. And this sense of service was noted as no task was too menial for him. In that development organisation he was noted for the speed at which he could take on this IBM printer, we used to have. He was moving faster than anyone, copying pages back to front, copying, flipping, shoving, stacking. He was a man who got involved. Involved with India Britain relationships, affairs of the world and helping out with the details in getting all the copies ready for the next meeting if that was required. Thank you Jim for your life of service. 3. I want to give thanks for his positive frame of mind at all times. I travelled with Jim through half a dozen African countries, and we travelled on a penny, not business class, not 5-star hotels. It wasn't easy. But I and none of my colleagues who travelled long and dusty road, endless planes and trains, have ever seen him unhappy or grumbling. He was unfazed by difficulties or hurdles. At one time he was addressing a senior development official in Brazil, who actually fell asleep during the meeting. Jim was unfazed. He continued with his story. When done, the man woke up and was given a brief summary of what was said, and Jim walked out of there with the sponsorship and funding that he had been after. Even last Sunday, during his last day, when I had the chance to sit by his side for a bit, when speaking was difficult for him, and yet, every other word he said was one of gratitude, thank you, thank you. Or the single raised finger to indicate: fine, ok. Did he need anything? 'I am fine', 'I have everything'. I told him of family events. And his response was a litany of 'amazing', 'well done'. I told him of a recent success of a company he used to be chairman of: 'fantastic' he said. Thank you, Jim, for your endlessly positive spirit. --Paul Shrijnen