The Band of 24
This was the most ambitious development project the Institute had ever undertaken. "Every Hour on the Hour" was the motivating image, dramatizing that symbolically there was a Human Development Project underway in every time zone of the planet. This graphic of the original 24 communities was on the cover of the booklet published in 1976 that briefly described each of them. The second graphic is from the booklet and links this massive venture back to the Institute's pilot community development project in Fifth City, Chicago. The image is the statue of the Iron Man erected in that community to symbolize local people taking responsibility for their own destiny. In the following years, over half the families of the Institute would spend one or more years living and working in one of these project communities, most of which were distressed villages in what we called the third world. The text that follows is from the brochure's introduction.
---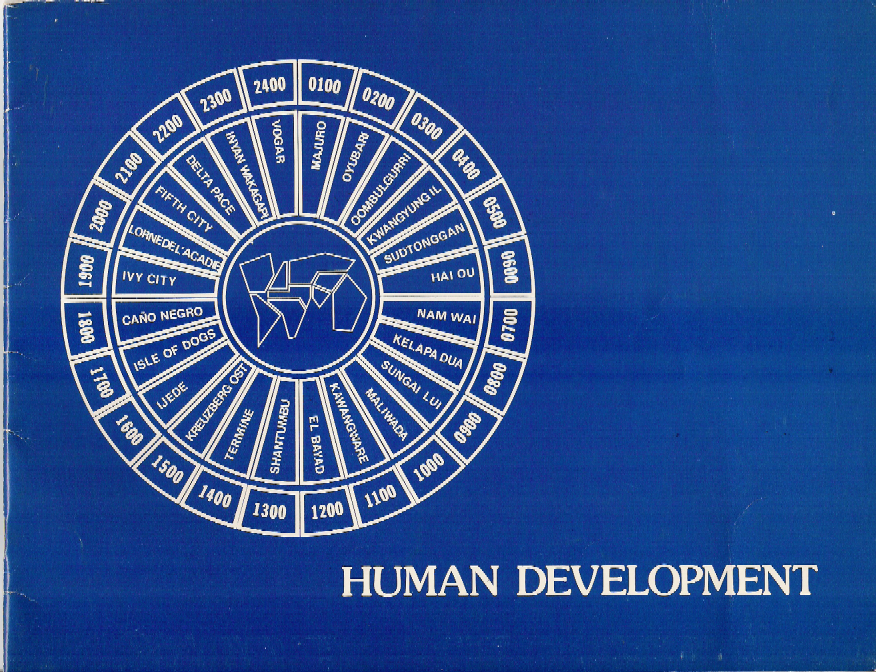 ---
The Iron Man of Fifth City and the Global Call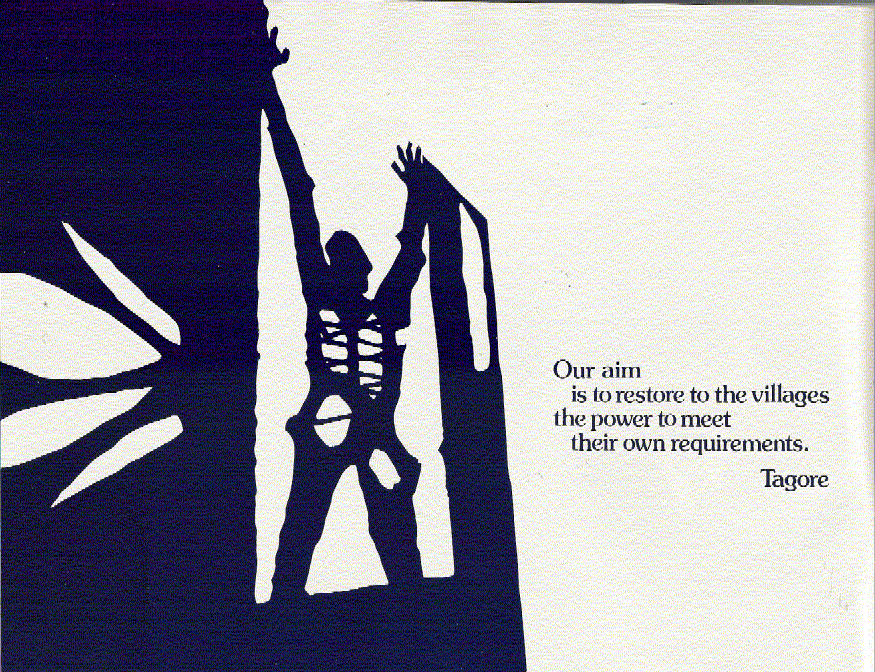 ---
Human Development begins with local people in local communities. The residents of the 24 communities described in this booklet have demonstrated that human development is possible anywhere in the world. In these sites, local people are working in cooperation with both the public and private sectors to achieve economic self-sufficiency and social self-dependence. Each project begins with a week-long consultation during which residents and volunteer consultants from around the world share their expertise in building a plan to meet the community's needs. First, the consultation elicits from the community a picture of its hopes and dreams for the future. It then determines the major factors blocking this vision and designs practical proposals and specific tactics to ensure the implementation of the plan for comprehensive socio-economic development. Programs unique to each community are created by residents and auxiliary staff. Rapid simultaneous initiation of the programs is one key to the successful launching of the projects. Communities in 20 nations have invited the Institute of Cultural Affairs to use this model in establishing pilot projects. The ability to achieve dramatic signs of socio-economic transformation in apparently hopeless situations is being demonstrated by local residents in all 24 projects. In India, in the State of Maharashtra, the first phase of a model to replicate the pilot model in 25,000 villages across that state is underway. At the end of the first twelve months, 25 villages were in some stage of program actuation. This demonstration has indicated that rapid development in multiple locations within a delimited geographic area is possible.
---
---
Sudtonggan
The
SudtongganConsult
--
GordonHarper
- 30 May 2006