* David Reese's Obituary: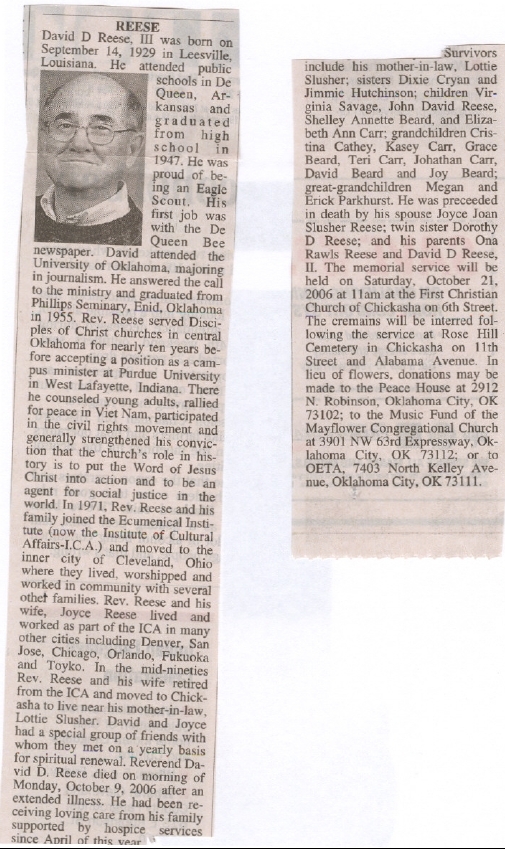 From: "Jim Baumbach" <
wtw0bl@new.rr.com
> To: "Order Ecumenical Community" <
oe@wedgeblade.net
> Sent: Monday, October 09, 2006 10:41 AM Subject: [Oe List ...] David Reese
> We are sorry to report that David Reese passed away this morning ending
> his bout with cancer. Bill Reese will be doing the services probably on
> Friday. More information will be posted as soon as his family makes
> arrangements.
>
>
---
Original Message ----- From: "Roger Alexander" <
ralexan934@sbcglobal.net
> Sent: Monday, October 09, 2006 10:39 AM Subject: Fw: [Oe List ...] David Reese
> This is sad news about my good friend and spirit colleague, David Reese, in
> Chickasha, OK. I know that several of you know him or have heard me speak of
> him, so I'm sending this along to all of you. I tried to contact David last week but
>was unable to reach him.
>
> David was a Disciples minister and he and his wife Joyce were members of EI
> for 20+ years. Joyce preceded him in death by several years.
>
> David and I audited a course at PTS a few years back on an "Introduction to
> Christian Theology" taught by Joe Bessler-Northcut. We had a grand time
> doing this together and I think in our own way we added "something" to the
> class. (I won't try to define what that "something" was, however).
>
> I will miss this wonderful and friendly human being and great person of the
> Spirit. I know many of you will miss him too. He was a "blessing" to many of
> us on his journey through life.
> Roger
>
October 9
Dear Ones,
We have known Joyce and David since the early 60's; we were bonded in a
cadre from the mid 60's onward and our children grew up together. We
made two extensive trips in caravan (from Indiana to RI, Canada and
back, to Florida and back from Indiana) with our cadre and all of our
combined (9) children in the late 60's. David introduced us to RS-1
in '65 and '66. Our church membership in Federated Church gave us a
basis for connections with the local church, as a cadre.
Any of us who knew David, understood what "lively" passion looked like.
Whether he was loving, angry, happy, sad, depressed or joyful, .... he
was full of passion. He was a disciplined churchman who always held
out hope for the church. We loved David dearly and continued to visit,
phone and send emails as long as that was possible.
I have been in touch by phone with Liz, Shelly, Virginia, and John (
and David when he could talk on the phone), while they were caring for
David at home. I talked with Liz a few days ago and realized that
David was very actively dying at that time. I had planned to call and
sing a song to him this morning, but discovered that I was too late. I
will share the words with each of you (if you would like me to sing it
to you, please call me) and perhaps the vibrations will reach David as
he continues his journey "home". I remember being with Joyce as she
was dying back in 1998 - her last words were about going "home" and
"entering into the light" . I would claim that promise for David, that
he would experience the PEACE within.
The River is flowing, flowing and growing.
The River is flowing, down to the sea.
Mother, carry me, a child I will always be,
Mother, carry me, down to the sea.
To our dear friend, David - The Irish Blessing
May the road, rise with you,
May the wind be always at your back.
May the sunshine warm upon your face,
and the rain for gently on your fields.
Until we meet again,
May God hold you,
in the hollow of Her/His hand.
You are loved,
Nancy and Fred Lanphear
---
Original Message ----- From: "Carol Crow" <
carol@songaia.com
> To: "Colleague Dialogue" <
dialogue@wedgeblade.net
> Sent: Monday, October 09, 2006 1:27 PM Subject: Re: [Dialogue] David Reese >
Thank you, Jim, for sharing this news. We have known his death was
> close at hand and rejoice in his release from pain and suffering. He
> was a man of integrity and care who blessed us all.
> In Community, Carol and Stan
Greetings all,
We shall miss this great one. I never had a close
assignment (team, Rel. Hse., etc.) with David, but
when we were at councils or other gatherings we
enjoyed conversing. He always seemed to grasp the
profound dimension of any situation. In recent years
his contributions over the Internet have always helped
see new dimensions of a situation. I shall miss him
greatly, but will feed off memories.
Charles Hahn
Dear Reese Children (Virginia were you with us in the Academy?),
Your parents left a profound impression on us. As we join you in the celebration of David's completed life we share the following:
Vinod and Kamala
Life
~anonymous~
As we grow up, we learn that even the one person
that wasn't supposed to ever let you down probably will.
You will have your heart broken probably more than once
and it's harder every time.
You'll break hearts too,
so remember how it felt when yours was broken.
You'll fight with your best friend.
You'll blame a new love for things an old one did.
You'll cry because time is passing too fast,
and you'll eventually lose someone you love.
So take too many pictures, laugh too much,
and love like you've never been hurt
because every sixty seconds you spend upset
is a minute of happiness you'll never get back.
Don't be afraid that your life will end,

be afraid that it will never begin I give thanks for David's life and I extend my sympathy to Liz, Shelly,
Virginia, and John. The Lanphears and the Reeses are so closely connected
for me as I met them while at the Cleveland and Indianapolis houses in the
early 1970s. David and family joined the Cleveland house while I was living
there. We knocked heads and laughed together. I remember David talking about
Harvey Cox's "Feast of Fools" and in a way David embodied foolishness for
Christ.
Over the years I watched as David grew in grace. In his later years he
shared with me a deep concern for the health of Earth. He wrote poems and
essays and always in everything sermons.
I called David in his last period. He reflected on how he had just realized
he was dying. I think it is a gift to have a conscious death, or should we
say dying. These last moments must be especially precious to recollect, to
acknowledge, to attend to, to be attended by, to be surrounded by love and
to know suffering, loss and acceptance.
God be with Liz, Shelly, Virginia, and John. Thank God for Reverend David
Reese who was a giant among us.
Love,
Herman Greene
Dear Reese Family,
Grandmothers, grandfathers
Thank you for our lives
Thank you for your wisdom
We sing to you
We dance for you
We send our voices
We thank you for this song
We walk a path of Beauty
We walk a path of Beauty
Come join us on this walk of beauty
Come walk with us in Beauty.
Blessings,
Jon Mark Elizondo
I want to know when and where the services for David will be because I want
to try my best to attend.
I was saddened to hear about the death of my good friend and spirit
colleague, David Reese. I had been in contact with David several times
during the past year, mostly by phone and E-mail. On one occasion I drove
down and spent several hours with him in Chickasha. He was very aware that
he was gravely ill and was sharing his treasured library of books with
friends at the time. I took one home with me.
David and I audited a course at Phillips Theological Seminary in Tulsa a few
years back. He would drive up from Chickisha (close to 3 hours) and I over
from Bartlesville. The course was an "Introduction to Christian Theology"
taught by Joe Bessler-Northcut. David and I had a grand time doing this
together and I sure we added "something" to the class. I'm not sure whether
the seminary students always appreciated or understood where we were coming
from but I think the professor thoroughly enjoyed our questions and
participation. David and I shared an appreciation for learning and
discussing theological/spirit issues and ideas.
I will miss this wonderful and friendly inquisitive human being and great
person of the Spirit. He was a significant "blessing" to me and I know he
"blessed" many of you on his journey through life.
Roger Alexander